Thermal Generation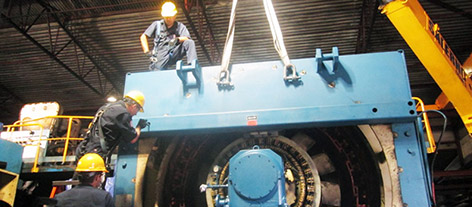 From simple inspection services to large turnkey projects, ELECTROMOTORES offers complete services for thermal generation plants in America. ELECTROMOTORES quickly and efficiently moves all materials, equipment, and special tooling to the site including the design and fabrication of tooling and accessories specifically for the disassembly and reassembly of the generating unit at site. The quality of the service provided by ELECTROMOTORES greatly exceeds its competitors in terms of Quality, Delivery Time and Price Level. ELECTROMOTORES is certified by the Original Equipment Manufacturers and is very well-known by insurance companies.
---
Hydroelectric Generation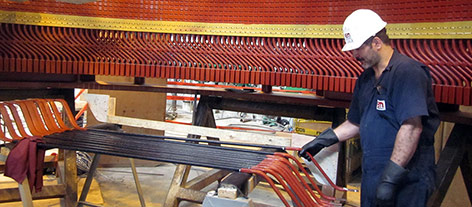 ELECTROMOTORES offers total support for electrical and mechanical repairs for Hydroelectric generators, whether it be of either the horizontal or vertical type. High technology Predictive Techniques, and Major Rehabilitation, both of high quality and quick turn-arounds are made available to the customer during its planned maintenance outages. For major generator and stator rewind projects, the best designs are possible with attention given to the potential for uprating the capacity and efficiency of the units.
Strategic Alliances have been developed with coil manufacturers of high voltage components for the flexible provision of materials required for the rewinds and upgrades, including the logistics of transportation to the worksite. In addition, ELECTROMOTORES is an Authorized Service Company for the Largest OEM´s in the world. 
---
Wind Power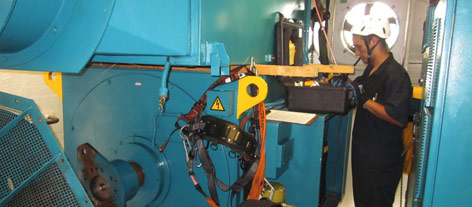 ELECTROMOTORES has capabilities to carry out any type of technical task at the nacelle. The wind turbine generators can also be transported to the Work Shop where state of the art equipment and technical resources are available.
Routine Predictive and Maintenance contracts are common with Wind Farms in this power sector, which allow the End User to effectively and flexibly manage their repair needs assuring Reliability. ELECTROMOTORES has developed special repair techniques over the years.
Reverse Engineering, Upgraded Insulation Systems, Best Cooper Quality for the application, Insulated Bearings, VPI. 
---
Sugar Mills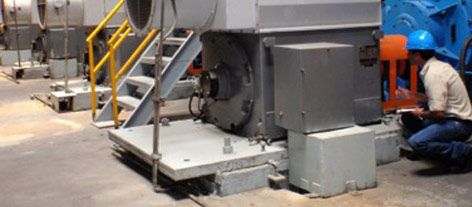 For more than 30 years ELECTROMOTORES has been serving the repair needs in this sector. ELECTROMOTORES knows well in depth and nature of the whole sugar production process from the cane preparation area to the cogeneration department.
ELECTROMOTORES has an active presence in this industry offering High Tech Condition Monitoring, Overhauling and Electromechanical Repair for medium and high voltage motors and generators.
Large Maintenance and Repair Projects can be executed at the Factory. ELECTROMOTORES supplying the Engineering, Specialized Labor, Materials, Tools and Testing Equipement, in order to carry out any type of Electromechanical task at the site.
In House services are also possible, where ELECTROMOTORES can take care of transportation door-to-door, including complete logistics for shipments under a Special Customs Regimen with no taxes no delays. 
---
Mining and Cement Industry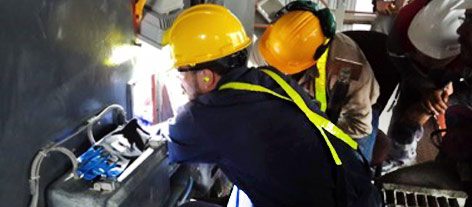 ELECTROMOTORES adheres to a Management System for Safety, Security, and Environment preservation, which are endorsed by the principal Mining and Cement Companies worldwide. This system is practiced on site and at the Work Shop as well.
EM offers the highest technology equipment for Condition Monitoring and Major Maintenance Assuring Reliability for Motors and Generators under this very tough and heavy duty applications. 
---
Processing Plants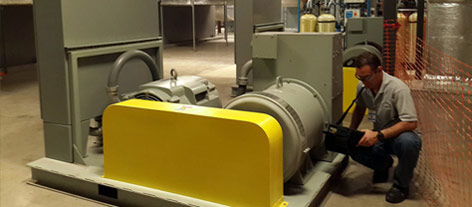 ELECTROMOTORES offers its services to different areas of the Processing Plant Industry, including: Medical, Plastic, Cardboard, Food, Agribusiness, Construction, etc.
In addition to the Services in the Workshop, the Users con also consider ELECTROMOTORES for Electromechanical Condition Monitoring, with the most advanced techniques.
Dynamic and Static electrical insulation testing- Vibration monitoring- Laser Alignment- Thermal Imaging
---